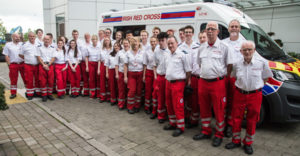 The Irish Red Cross has paid tribute to the work of its local volunteers at a special awards  ceremony held in Limerick which was attended by over 50 members of the organisation from its many branches across Limerick City and County.
Chairman of the Irish Red Cross, Pat Carey presided over the ceremony, which was held in the Clarion Hotel, and which recognised the time Irish Red Cross volunteers give to helping communities throughout Limerick City and County. The Deputy Mayor of Limerick City and County Cllr. Gerald Mitchell attended the event as guest of honour.
The range of awards included gold, silver and bronze lapel pins, representing 40, 70, and 100 hours annual voluntary service, respectively, with special commemorative certificates presented to volunteers who had given over 200 hours service in 2015.
Cathal Byrnes from Limerick received the award for the highest number of hours contributed in 2015 – an impressive 512 hours. Volunteers also received 3 year, 5 year, and 10 year long service awards in recognition of their time served as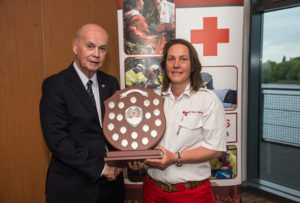 members of the Irish Red Cross.
The ceremony specially highlighted a number of individual members who had made extraordinary contributions during the year. Among the recipients was Sarah Speight, a volunteer Emergency Medical Technician with the Limerick City Unit, who received the Member of the Year award for her outstanding commitment to event first aid cover, fundraising and training.
Praising the great work of the local Irish Red Cross volunteers, The Deputy Mayor of Limerick City and County Cllr. Gerald Mitchell said: "The commitment of the Irish Red Cross volunteers to the people of Limerick City and County is fantastic. Whether on duty at Thomond Park or at a local community sports day, Irish Red Cross volunteers are always there to offer assistance if needed."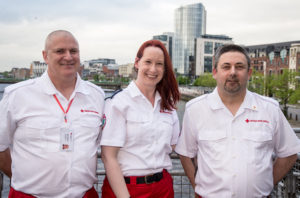 Chairman of the Irish Red Cross, Pat Carey said: "Tonight we recognise that Irish Red Cross volunteers contributed over 9,500 volunteer hours to cultural, sporting and humanitarian activities in Limerick City and County during 2015. This represents a huge commitment on behalf of our volunteers, who give up their own time freely and without reward, and it is important that we say thank you to them." He noted that "the Irish Red Cross provides a diverse range of first aid, health, social care and humanitarian services throughout Ireland and (that) the delivery of these services is only possible thanks to the hard work of the Society's volunteers."